All-Around Protection with an Aluminum Trench Box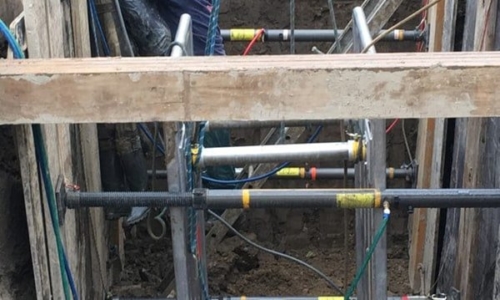 When digging in the ground with your lightweight excavator, it is essential to provide the proper protection, and an aluminum trench box from Allen Trench Safety can give you the protection and peace of mind you and your workers need. Specifically designed to keep workers safe in the ground, our aluminum trench box is perfect for any taps like gas, sewer, and water.
Secure sides
With the option to close off one or both ends of the trench box with a quick-release system, the aluminum trench box from Allen Trench Safety gives you safety options to cover all four sides of your trench before getting in the ground. This all-around protection guarantees a safe job down in the dirt and an effective solution for your workers to do the job using a single tool.
Added support
Stackable, you can safely bury the trench boxes down to 12 feet, even in Class "C" soils. Lightweight, but strong holding, the aluminum trench boxes give the trench the added support it needs to make sure everyone gets in and out safely. By adding simple stacking tubes between trench boxes, you can confidently stack them.
Easy for everyone
Part of the appeal of bringing an Ultra Shore trench box to a job site is the ease in which people can do so. Due to the lightweight frame, almost anyone can carry them from one place to another on the site.
With a variety of accessories and dependable equipment, Allen Trench Safety has the trench safety solutions you need to keep the workplace safe. Contact us today to see how we can help make your work safer.