Find Convenience in Shoring Equipment with an UltraShore Trench Box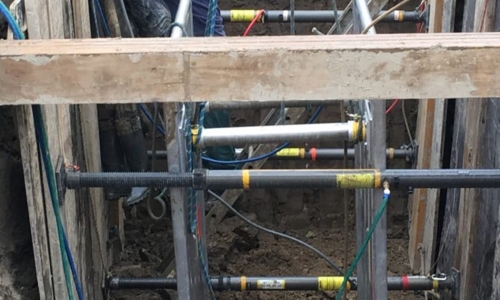 When you need shoring equipment that will not cause too much of a hassle for you and your team, you can depend on an UltraShore trench box from Allen Trench Safety Corp. With over twenty years of experience in the business, there is a reason why Allen Trench provides UltraShore trench boxes, and that is because they get the job done. Our deep understanding of trenches and the equipment that goes in them means that we recommend and provide only the best, and that is what you will get with a convenient and efficient UltraShore trench box.
Convenience of transportation and utilization
Part of the convenience that you receive when you invest in an UltraShore trench box is its lightweight design. Crafted out of specially corrugated aluminum, it provides a more lightweight and easier to maneuver way for you to do trench work. Because it can still hold strong for work down to 12 feet deep, workers from all around have depended on UltraShore to keep trench collapses from happening without straining themselves during loading and unloading the equipment or setting it up on the site. Other shoring products may need specialized equipment to get down in the dirt, but the UltraShore trench box can easily be lowered by two people into any excavation site where it is needed.
UltraShore trench box versatility creates convenience
When you need shoring equipment, versatility can often add convenience to operating it, and this the case for the UltraShore trench box. Capable of being stacked horizontally or vertically as needed, used as parallel shield panels or in a "V" and wedge configuration, as well as being closed off on one or both ends through the use of the quick-release, spring-loaded end closure panels, the UltraShore trench box is matched by no other. Versatile options means more that you can accomplish with your trench box, and that means a more convenient piece of equipment that has different applications as you need them.
With the convenience to move, assemble, and install easily, the UltraShore trench box provided by Allen Trench Safety Corp. will make your shoring operations easier than ever. And, when they are not being used, they can be stored just as easily! Find the right size UltraShore trench box for your businesses needs by contacting Allen Trench Safety Corp. today and learn more about what quality trenching equipment can do for your shoring business.