Finish New Construction Safely with an UltraShore Trench Box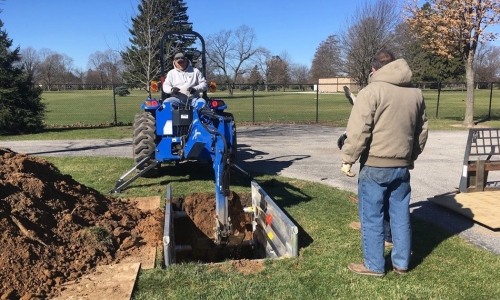 Whether you are a contractor, municipality, or a homeowner setting lines for your new construction in the ground, you can benefit from the safety provided by an UltraShore trench box. Allen Trench Safety Corp. provides the best selection of UltraShore trench boxes available for any individual or business that wants to get in the ground safely. With our options and expertise with trench boxes, Allen Trench will provide you with the best trenching equipment experience.
More safety for less hassle
With UltraShore trench boxes, you get safety that you can count on for much less hassle than your standard trench boxes. UltraShore trench boxes are made from a specially corrugated aluminum that gives any worker that is using them up to 12 feet of protection in the ground. This height is perfect for many underground utility lines, construction pieces, structural components, and more. And, getting it to that height is as easy as two people lowering the stacked assembly of two panels into position for work to be done. The aluminum frame and panels provide excellent protection, while offering a lightweight option that makes working with trench boxes easy. We have years in the industry of trenching and shoring equipment, so you know you can count on the UltraShore products that we recommend.
Trust in your UltraShore trench box
As long as you are following the safety documents and guidelines when using your UltraShore trench box, you can count on it to protect you and your workers on a new construction jobsite with ease. Designed to be easily stacked into an excavation and available with a variety of sizes for end panels, there are a variety of trenching applications that you can use to increase safety while in the ground. The team at Allen Trench Safety Corp. has worked with customers in a variety of industries, so you can trust in us to provide you with products and expertise that will best serve you, no matter what type of new construction you are building on a worksite.
With Allen Trench Safety Corp., you know that you are always getting the quality assistance with trenching and shoring equipment that you need. With UltraShore trench boxes available and all the guidance you could need with them to use them to maximize safety on your worksite, Allen Trench has your back. Contact us today to learn more about what UltraShore boxes can do for you!