Keep Your Workers Safe with UltraShore Trench Boxes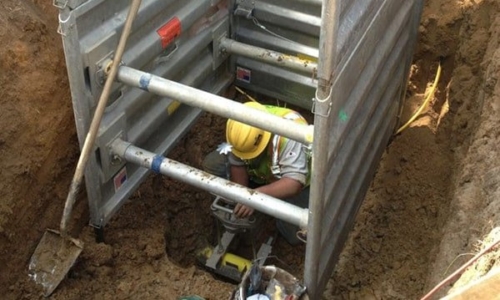 If you're looking to keep your workers safe, you've undoubtedly looked into the advantages of UltraShore trench boxes. Designed by a contractor, for contractors, these trench boxes are rightfully considered the most durable, flexible, and lightweight trench safety products on the market. Constructed from aluminum, two people are able to transport, place, and position them without hassle. And, best of all, they are stackable, come equipped with quick-release end closure panels, and are able to be used both vertically and horizontally. As a way to keep your employees safe, they are truly unparalleled. In today's post, we're going to take a closer look at a few of the advantages of these amazing products.
Convenient
If you're looking for a product that can be transported with ease, Ultrashore trench boxes are for you. Beyond being lightweight, they are easy to assemble and can be broken down to fit into the smallest pickup trucks.
Safe
With a bury depth of up to twelve feet – even in Class "C" soils – these trench boxes are resilient and designed to withstand the rigors of your operation. More importantly, they are engineered to keep your employees safe by protecting them from the devastating effects of trench collapses.
Flexible
Stackable and able to be used in various orientations, UltraShore trench boxes are manufactured with versatility in mind. Whether you're digging small trenches, large trenches, or anything in between, you can utilize the same equipment without needing to purchase different products for every job.
At Allen Trench Safety, we are committed to helping our clients ensure the safety of their workers. No matter the size of your operation – or the size of the trenches you're working in – you can be confident that our trench boxes will keep your employees safe. To learn more, we encourage you to browse our website, take a look at what we offer, and contact us with any questions you might have.