Protect Against Trench Collapses with Trench Boxes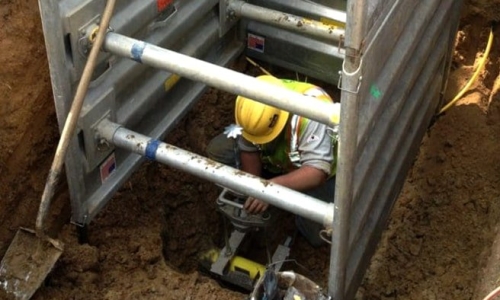 Trench work can be dangerous, especially when the project needs to be completed in an area with loosened soil or muddy conditions. Allen Trench Safety offers the best trench boxes in the industry to prevent these collapses and keep your employees safe no matter what sort of trench work they need to do. In today's post, we will discuss the importance of making sure your employees are protected when working in trenches of all shapes and sizes.
Avoid Collapses for a Smoother Work Day
The last thing you need when doing trench work is for the trench walls to collapse due to loose soil or muddy conditions. When this happens, there are a number of potential consequences. Depending on how bad the collapse is, you could have to spend time digging out expensive tools and equipment, not to mention that a worker could become trapped or injured in the process. Not only will trench boxes from Allen Trench Safety protect your workers and your equipment, but our safety equipment is compliant with OSHA standards, helping you keep every work site within mandated guidelines. Click this link for more information about the trench safety equipment we have to offer.
Effective Equipment That's Easy to Use
The trench safety equipment available from Allen Trench Safety is not only effective in protecting your trench workers, but it also makes their jobs easier. These trench safety products are made of a lightweight aluminum that can be put in place by a two man team and transported in the back of a standard pickup truck or a small trailer. This means that your workers won't have to waste time fumbling around with equipment trying to set things up, allowing them to focus more on the task at hand. Take a look at our videos page to see our equipment in action for yourself.
Trench workers deserve to have a safe environment in which to work, and Allen Trench Safety can help with our sturdy trench boxes. Whether you are an independent contractor, work for a municipality, or do any other style of trench work, we can provide you with the trench safety equipment that will protect your workers, stabilize the jobsite, and keep your business in compliance with any mandated labor laws or guidelines. Contact us for more information about the trench safety equipment available from the experts at Allen Trench Safety.