Start New Businesses Safely with UltraShore Trench Boxes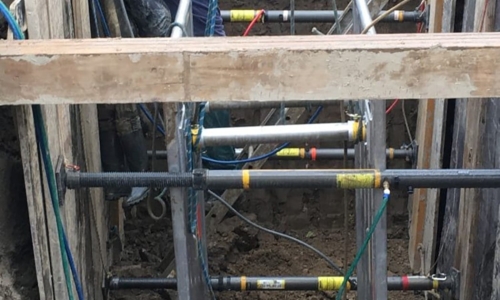 As we enter another New Year, UltraShore trench boxes are a great choice for those thinking of starting a trenching and shoring operation as part of their New Year plans. A New Year is a time of new beginnings, and those that are thinking of diving headfirst into it with a new business that gets down in the dirt can protect themselves and workers with the quality protection that UltraShore offers.
Allen Trench Safety Corp. is a proud supplier of UltraShore trench boxes and has worked with a variety of businesses looking to improve their trenching and shoring safety. With our team of experts, we'll set you up with the best trench boxes for your company's needs and help you get working toward a safer workplace.
What sets UltraShore apart
UltraShore is an excellent choice for first-time buyers of trenching and shoring boxes because they are lightweight and easy to use. Rather than purchase a trench box that is so heavy that it requires the rental or ownership of construction machinery to move and place it, you're better off with an UltraShore trench box that is lightweight enough that two people can lower a stacked assembly of two panels into your trench or shoring spot.
Allen Trench Safety Corp. provides only some of the best choices for trenching and shoring on the market because we have years of experience working in the field ourselves. Our knowledge of what equipment works best has been gathered firsthand, and our team of experts would be more than glad to discuss the UltraShore options available to you based on what work you plan on doing.
Safety all in one place
When you shop for safety equipment used in trenching and shoring, it can be a great benefit to know a trench box provider that has all the tools you need in one place. UltraShore trench boxes are a preferred brand for many not just because they are lightweight and easy to use, but because they also have a variety of accessory options that make them. From adjustable spreaders to leg kits, UltraShore fits different tools for different jobs.
Allen Trench Safety Corp. carries all these safety options in one place for customers to purchase to make their trenching and shoring operations easy. We always strive to give those working in trenches the proper equipment for the job to maximize safety, and the accessories for UltraShore trench boxes that we have available is one more way we achieve this.
Any new business that needs quality trenching equipment can always count on Allen Trench Safety Corp. Learn more about UltraShore trench boxes by giving us a call today!