Take a Load Off Your Work with a Lightweight Trench Box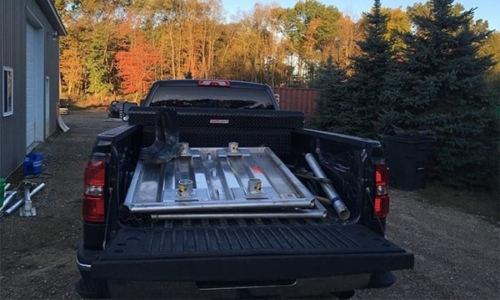 When you're working in the ground deep enough that you have any fears of a collapse, Allen Trench Safety can provide the protection you need with a lightweight trench box. Easy to set up and perfect for utility projects, the lightweight aluminum trench boxes from Allen Trench are the excavation system you've been looking for.
Easy to move
Thanks to having stackable panels and the light-weight aluminum frame, you and your workers can easily move around your trench box as your project demands it, giving you the effective, ease of use that can encourage a faster workflow without sacrificing quality.
Site-to-site
The light-weight frame not only makes our trench boxes simple to use at a site, but transporting them comes with little-to-no hassle as well. The size and weight of our light-weight trench boxes mean that assembled or broken-down, even the smallest of pickup trucks can have enough room and easily withstand the weight of our trench boxes to transport them. With the other safety equipment that you bring to your worksite, a dependable, light-weight trench box that can fit in the back of your pickup can save room and encourage a faster workflow.
Still holds strong
Just because the trench boxes from Allen Trench Safety Corp. are light-weight does not mean that they lose out on strength in your trench. The shoring light-weight trench box we offer can be used as parallel shield panels and the aluminum buildable trench box can be used as a 2-4 sided configuration.  No matter which light-weight trench box you choose, they can hold your ground.
Offering trench boxes for plumbers, municipalities, utility companies, and more, Allen Trench Safety Corp. has the solutions to keep your workers safe and keep your worksite free of risk. With simple, but effective protective systems, Allen Trench can help you improve your work safety today!