UltraShore Trench Boxes Keep Grounds Held All Year-Round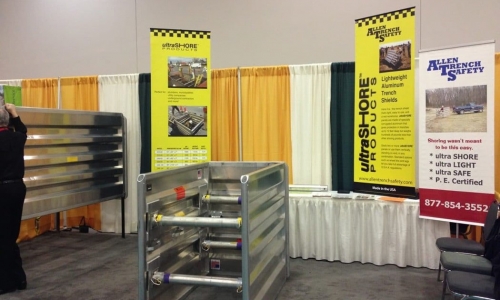 If you are in the trenching and shoring industry, then you can benefit from UltraShore Trench Boxes any time of year for added safety on your projects. With winter coming up fast, the need for trenching equipment does not go down. The ground may freeze and harden during winter months, but that doesn't mean that trenching equipment isn't needed when going down in the dirt. It is important to always have the proper safety equipment available when on the jobsite, and Allen Trench Safety Corp. can ensure that you always have the best.
Winter to summer trenching and shoring
If you are a regular in the business of trenching and shoring, then you know that there is always work to be done year-round. From winter to summer, gas lines, water lines, electrical lines, and more may need to be installed for new construction, repaired or replaced because of age, or whatever else clients need your crew to do in the ground. When this work is being done, it is important to always have the best safety equipment available, and that includes trenching and shoring equipment. Allen Trench Safety can provide the best equipment for your needs all year-round to help your business make sure that everyone on the job can get their work done safely.
UltraShore trench boxes make the difference
Rather than do simple equipment rental from somewhere you have never discussed your business with, contact Allen Trench Safety Corp. today and learn about all the equipment and services that we can provide to you when you work with us! Our UltraShore trench boxes make the difference for businesses in the trenching and shoring industry, and we take the safety of the individuals using them safely. With knowledge of how the industry works through personal experience, our team trusts only the best equipment after it has been tried and tested for reliability. When you are working in the ground this winter or in the heat of summer, you can count on Allen Trench Safety to help everyone do their work without worry.
Providing peace of mind and confidence to employees in trenching and shoring, Allen Trench Safety Corp. is your best option for the necessary equipment to complete your job no matter what time of year it is. Trust our UltraShore equipment to benefit your business. Give us a call to learn more or to get started on an order today!